Search using category selection or search terms in the search field.
Click on the listing name to see full detailed listing.
Listings are in alpha order by FIRST name. (GOGs founder/owner listing pinned to top)
Not seeing the GOG you are looking for? Contact us.
Not seeing YOUR listing? Choose here.
Betse

Bernstein
Therapeutic Thai Massage
https://healthandbeautygurus.com
Biography
Betse is a true Master of Thai Massage

She has been an Instructor and Practitioner of Thai Massage since 1993
She has developed special techniques to relieve pain that allows the recipient to feel comfortable while releasing the problem. She is firm but gentle. Betse loves teaching Thai Massage and wants her secrets to be available to anyone who has a sincere desire to learn.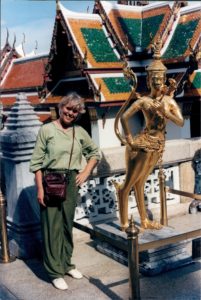 In 1993, when Betse first started doing THAI MASSAGE most people had not heard of this form of massage. She promoted it as THERAPEUTIC MASSAGE OF THAILAND and explained that it was done on a mat on the floor, fully clothed without oil. It was excellent for sciatica and back pain, neck and shoulder pain, and other body challenges. The more she was able to release pain through her massage, the more referrals she received for therapeutic massage. Ultimately, she ended up creating her own style.
By the fall of 1993 Betse had taken the full Thai Massage course twice (the second time for no credit, just to perfect her skills). She had also taken advanced courses both in California and Thailand and was receiving Thai Massage weekly from an instructor for several years.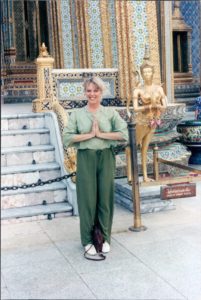 She visited Thailand twice and studied at ITM International Training Massage School in Chiang Mai Thailand. She completed advanced courses plus the Teacher Training Program. She taught there most mornings and received her credential to use in the United States.

In finding Thai Massage Betse found her true passion in life.
What Differentiates Her Style. Betse treats her moves as a dance with each step flowing into the next. All through the stretches, she massages the different areas that are revealed in that stretch that is causing difficulty or pain. By being present she can feel the tight muscles and nerves. She intuitively knows what is needed.

Betse grew up in a medical family, Her dad was a doctor(General Practitioner) and her mother was a nurse. When she was a teenager, and during college vacations, she worked in her dad's medical office using his unique healing tools including Ultra Sound on his patients.
Betse's background as an elementary school teacher helped her greatly as a THAI MASSAGE Instructor. Her love of teaching plus her passion for Thai Massage allowed the students to learn from her with ease.
Betse became a Thai Massage Instructor at Natural Healing Institute in Encinitas for 5 years in the 90s and currently teaches her own style privately.
Betse is also a mindful change coach. Bringing out the best in her clients. She is a Holistic Health Practitioner and can assist you with most Health-related issues you may have. She wants the best for you in achieving your goals. She can assist you with learning more about Thai Massage and how to help you help others become pain-free learning how to correct sciatica, low back, and shoulder problems, and how to locate the specific points to correct problems.

Ready to Get Your Listing?
FREE, $0
STANDARD, $50
PREMIUM, $150